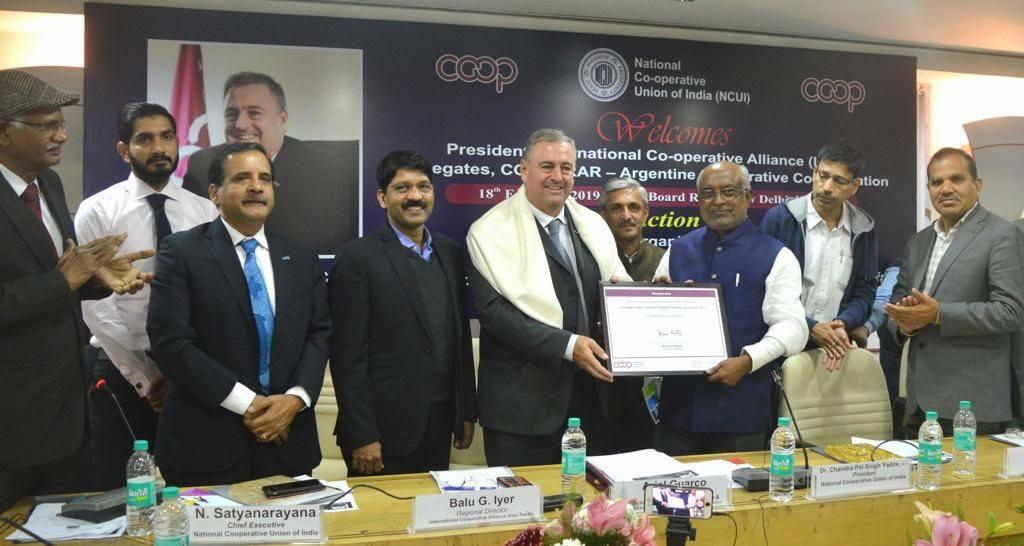 ULCCS the first Primary Cooperative Society to be Awarded ICA membership from India
Co-operatives, co-operators and Governments should work together for betterment of the society; Says International Co-operative Alliance(ICA) President Sri. Ariel Guarco. ICA President made this remark in a well-organized event of cooperatives organized by NCUI in Delhi on 18th February 2019. During this event ULCCS-Uralungal Labour Contract Co-operative Society based at Vadakara in Kerala-Chairman Remeshan Paleri received the membership from ICA President. ULCCS is the 13th permanent ICA member from India and the only primary Cooperative from India as its member. Usually ICA permanent membership will be awarded to National apex body of Co-operatives. ULCCS has been selected based on the performance of the society during the last 94 years. ULCCS was established initially to strengthen construction and infrastructure sectors during the pre-independence era. Over the year's society has been emerged as the total solution provider for construction and infrastructure in the country. As part of transformation and technology ULCCS gradually diversified in to tourism, IT, ITeS, infrastructure, UL Cyberpark, education, skill development, UL foundation, agriculture and dairy business sectors. The growth and success saga of ULCCS has been identified by ICA as a role model for co-operatives so as to scale up across the globe.

ICA the International Co-operative Alliance head quartered at Brussels unites, represents and serves co-operatives worldwide. It is the apex body representing co-operatives which are estimated to be around 3 million worldwide. Of which more than 25 parent co-operatives were in India. Providing a global voice and forum for knowledge, expertise and coordinated action for and above co-operatives. The International Co-operative Alliance work with global and regional governments and organizations to create the legislative environment. ICA membership envisages ULCCS to partner with ICA in technology, skill development, education and capacity building across ICA member countries. As part of this membership, ULCCS will propose to establish international center for excellence in skill development, advanced technology and training in association with ICA in Delhi. ULCCS group CEO Raveendran Kasthuri, UL Education Director Dr.T.P.Sethumadhavan, ULCCS Project Co-ordinator Kishorkumar and OSD to Chairman M.T.Abhijith attended the programme. NCUI president Dr. Chandrapal Singh presided over the function, Regional Director ICA -AP Balu G Iyar – NCUI Chief Executive Dr. Sathyanarayana were present and an interaction with ICA member organizations were also held, in which representatives from national level cooperatives senior policy makers and from ministry of agriculture and family welfare also participated.